Matt has spent the last couple of Sundays speaking about the value of remembering so I thought it would be good to take some time to look at what our Father has commanded with regard to our thinking. Our Lord has given us perimeters within which He wants us to think. So that means that we have to pay attention to our thoughts and bring them into obedience to His will for us as His children.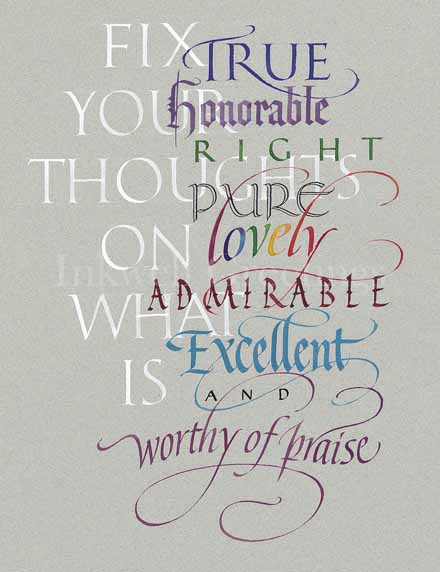 We are told in 2 Corinthians 10 to take every thought captive to the obedience of Christ. Which means that we can't spend time thinking about ideas that are against the things that our Father has taught us in His word. We have many things coming into our minds, temptations through all types of media to think things that are of this world, things that claim to be the answers to all our problems. Therefore, we must know the Word of God so that we can replace these ideas with thoughts that honor our God remembering His superiority over all this world has to offer as our Creator.
Another area that we have to control our thinking is with regard to things that make us anxious. In Philippians 4, starting in verse eight, our Lord tells us that we are to dwell on things that are true, honorable, right, pure, lovely, of good repute, excellent, and worthy of praise rather than being anxious. In the midst of the various trials that our Father tells us to expect I have found it difficult to find anything that fits into these perimeters here on this earth. But, if I remember as Matt was saying in his sermons, our Lord's great and mighty acts, His compassion, His faithfulness, His grace, that He is slow to anger, and abounding in lovingkindness for His people, then I have plenty to think about that fits within these perimeters. I now have thoughts that replace my anxiety with hope and encouragement.
What will you choose to think about? Someone said that we think around 10,000 thoughts in the course of a day. Will you be remembering things from the past, things you can't change, things that cause you to fret? Will you dwell on your present lousy circumstances? Will you allow your thoughts to deceive you into thinking that this world offers answers to the difficulties of your life? Or will you obey God and honor Him by remembering His glorious excellencies and receive the power to hope in Him and the peace that surpasses understanding?